Starlink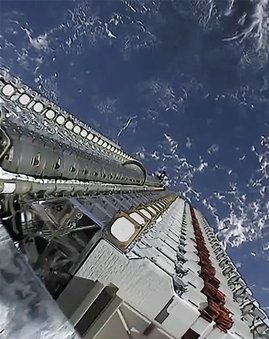 Have you heard of Starlink? Well, Elon Musk is the man behind the mission. Starlink is a constellation of satellites controlled by SpaceX that aims to provide satellite internet to most of the Earth; especially to areas that don't already have access to high-speed broadband. This is achieved by growing a network of private satellites that will orbit above Earth's surface at an altitude of approx. 340 miles. Starlink internet users can expect to have data speeds between 50-150 megabits per second and latency from 20-40 milliseconds in most locations. Musk later said he expects service will double its speed to 300 Mbps by the end of 2021. SpaceX has warned that internet may be spotty now, but as more satellites are installed and ground stations improve, the service will become reliable.
The Starlink Logo
The SpaceX satellite development facility is located in Redmond, Washington. This is the place where research, development, manufacturing and orbit control teams work on the project, which has been in progress for 10 years. As of May 2018, Starlink's total cost was estimated at 10 billion US dollars. SpaceX's project acquired over $885 million dollars in grant funds from the Federal Communications Commission in 2020. By 2021, SpaceX had made agreements with Google Cloud Platform and Microsoft Azure to provide on-ground computing and networking services for Starlink.
SpaceX / Starlink headquarters in California.
In early 2021, Musk's company shared that they were serving 10,000 customers. By the middle of the year, there were 1600 satellites in orbit. It is Musk's intention to provide satellite internet to remote areas of the planet and competitively priced services to urbanized areas. Countries such as the United States, Canada, the United Kingdom and Germany were some of the first to be given access to the service. Elon plans to offer Starlink internet on a near global scale by late 2021 or 2022. SpaceX has stated that the money from selling satellite internet services will be used to fund their Mars plans.
Falcon 9 lifts off from Cape Canaveral Air Force Station (CCAFS), Florida, delivering 60 Starlink satellites to orbit on 11 November 2019.
Product development for Starlink began in 2014. This led to two prototype test-flights conducted in February 2018, with more test satellites and 60 operational satellites launched in May 2019. Astronomers have raised concerns about the wide-reaching effects of these satellites, which include further crowding of Earth's atmosphere, the constellations' effect on ground-based astronomy, and more light pollution. Light pollution is the presence of unwanted, inappropriate, or excessive artificial lighting. In response to concerns over excessive light, Musk and his team have tried to make updates that will help reduce the brightness of the satellites during operation, including pixel masking and image stacking. These satellites are designed to avoid colliding in orbit based on uplinked tracking data. While SpaceX still has some bugs to work out, many people look forward to Starlink becoming available in their area.
A group of Starlink satellites as seen from the International Space Station.
Download questions about the Elon Musk & Starlink here: Starlink (answers are on this page)
For more in-depth worksheets on Elon Musk. Click on Kidskonnect Worksheets
Check out our  new twitter account dedicated to Elon Musk @elonmuskforkids
Fun Facts About Elon Musk & Starlink
Elon Musk has stated that the money used from selling satellite internet services will be used to fund the Mars project.
The Starlink project is focused on providing internet to areas where people have spotty internet or no internet at all.
Starlink expects internet speeds to get up to 300 Mbps by the end of 2021.
While many are excited about Starlink internet, critics warn of the long-term danger of space debris as a result from placing thousands of satellites in orbit that could cause serious collisions.
Q&A Corner
Who has access to Starlink internet now and will everyone eventually?
Is everyone on board with Musk's plan to create Starlink internet?
With so many satellites in orbit, are the Starlink satellites likely to collide?
Which other large companies have aided the Starlink project from the ground?
What has it cost SpaceX to build Starlink over the last decade?